About the owner
Regina is a compassionate hardworking wife and mother, who took a traditional approach in making homemade body butters. Her determination and drive kindled her vision to start a business. What lies ahead for Body Code is an assortment of skin care products that she will share with her consumers so they can know what the true Body Code experience is like.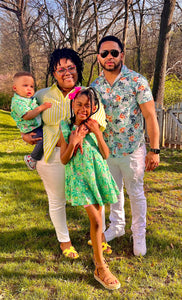 Testimonials
I purchased a few different body creams from Body Code and I am impressed by how long lasting the body cream fragrances last, it also keeps my body nice and smooth, so soft not oily at all stays on your skin all day. I recommend this company, I will buy again. 

Kimberly R.
Body Code has some amazing body butters. I use my body butter daily. I've tried almost all of them but Southern Peach is my favorite thus far. 💙

Erica D.
I've purchased a few items from Body Code for myself and my children! Cashmere & Power are an absolute MUST!! The product feels amazing on my skin and smells good too! The service is exceptional. Will be purchasing more!

Ebony Y.
I love the DE Stress so much it's favorite butter from BC ! I use it daily after I shower & I feel so relaxed. I even use it in my hair, it's moisturizing to my Locs. I get so many compliments when wearing my butter. I will forever be a customer.

Ashley W.
I JUST LOVE BODY CO PRODUCTS! The scents are AMAZING. The body butter makes your body feel "baby soft." I appreciate the fact that it's "kid friendly" my daughter loves it! Especially the bath bombs! After one bath the entire house smells WONDERFUL!

Anita B.